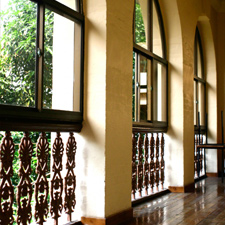 Damon S. DeVito, Managing Director [Full Bio]
Damon DeVito is responsible for identifying growth opportunities for Affinity and our clients through strategic planning, business development and marketing. He has been published or interviewed for industry publications including: Club & Resort Business, Private Club Advisor, Crittenden Inc., Club Executive, Washington Post, USA Today, Commonwealth Golfer, Golfstyles, and MRM News. DeVito brings over 16 years experience to the club industry. He has an MBA from the UVA's Darden School of Business and was awarded the Hyde Fellowship. Prior to Darden, he was a consultant to Fortune 500 companies with Corporate Decisions. DeVito holds a BA in Economics from the University of Pennsylvania and a BS in Finance from the Wharton School where he co-founded the Penn Student Credit Union. He is a member of the Wharton Sports Business Initiative, serves on the Boards of online ordering technology start-up Foodio and the Mid-Atlantic NGCOA, and is a mentor at HackCville and raised over $750,000 in 8 years for UVA's Children's Hospital.
David R. Swales, Managing Director [Full Bio]
David Swales oversees operations at client properties including quality control, financial reporting, procedures and human resources. Prior to Affinity, he managed a number of golf clubs and hospitality businesses, including the prestigious Wentworth Club (PGA Championship, World Match Play) in England. In 1991 he was recruited by the noted retailer Sir Bernard Ashley (Laura Ashley) to manage Keswick Club in Virginia. He has over 25 years of experience in the hospitality industry, part of which was at two of Europe's major hotel companies: Trust House Forte and Mount Charlotte-Thistle Hotel Group. Swales was recognized as the 2003 Businessman of the Year for the Commonwealth of Virginia. He holds a BA in Hotel Management from Fitzwilliam College in Cambridge, U.K., and also serves on the Board of Directors for the financial services firm Community Mission Financial, Inc.
Alexander Bazhinov, Chief Sustainability Officer
Alex is originally from Moscow, Russia and joined Affinity in 2016. Prior to Affinity, Alex was the Founder and CEO of DreamPower, which enabled small businesses to save money, reduce energy consumption, and be more sustainable. A start-up with an innovative business model in energy efficiency sector, DreamPower was accepted into UVA's i.Lab and was named one of the 7 most promising startups out of the i.Lab. DreamPower was also named one of the most promising start-ups in DC area. Prior to receiving his MBA from UVA's Darden School of Business, Alex held multiple positions within top Russia's mining companies. Alex also received a diploma in Financial Reporting from the Association of Certified Chartered Accountants. Outside of work Alex enjoys spending quality time with his family.
Jon McKeon, Marketing & Design Specialist
Jon McKeon joined Affinity in 2015, bringing a diversity of marketing and graphic design experience, in addition to significant work in the boutique hospitality industry. A competitive golfer growing up, he now plays contemplatively instead. In his spare time he enjoys reading, gardening, cooking, and rustic carpentry.
Stephanie Hall, Marketing & Administrative Specialist
Stephanie Hall joined Affinity in 2015 with a background in program management and office administration. Stephanie spent 4 years as the Security Manager for an Army organization and approximately 10 years in the Air Force where she worked Presidential and Global Radio Communications. In her spare time she volunteers at a Non Profit Dance Studio in Waynesboro, VA where her daughters dance. She also enjoys cooking and a good book.