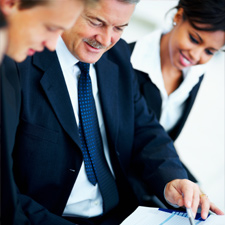 Anthony Apollaro, Jr. - Tony Apollaro is a Partner and Chief Investment Officer with Optimus Capital Advisers in Dallas, TX, a guest lecturer at Rice University and a partner with Dr. John Eliot in Milestone Performance Group. Apollaro specializes in financial planning, asset protection, investment analysis, mergers and acquisitions, risk management and alternative investments - private equity, real estate and hedge funds. He was previously the Vice President of Business Development for Evergreen Alliance Golf Ltd., where he was responsible for golf course acquisitions, dispositions, leases and management contracts.

Bernard Gallacher - Bernard Gallacher is a professional golfer with over twenty professional victories that include the Tournament Players Championship, the Dunlop Masters, the French Open and the Spanish Open. Gallacher represented Europe in the Ryder Cup as a player eight times and Captained the European Captain in 1991, 1993 and 1995. Gallacher now plays on the European Seniors Tour. He was the professional at Wentworth Club near London for 25 years until the end of 1996.

Mark Glickman – Mark Glickman is the President of The Glickman Group, a full-service marketing and public relations firm that specializes in travel and tourism with a focus on resorts and destination marketing. In 2009, Glickman was recognized as one of the "Top 25 Most Extraordinary Minds in Sales & Marketing" by the Hotel Sales & Marketing Association International (HSMAI). His experience includes Wintergreen Resort, Mauna Lani Resort, Pinehurst, Carnegie Hall, Tavern on the Green and El Cid Resorts. Glickman founded both the Golf Virginia Resorts Association and the Ski Virginia Association.

Steve Mann – Steve Mann is the Head Golf Professional at Wollaston Golf Club. His professional experience includes Olde Kinderhook Golf Club (NY), Pine Valley Golf Club (NJ), and Wannamoisett Country Club (RI). He has served three terms on the NEPGA Board of Directors, representing the Southern Massachusetts PGA Chapter, and he recently served as Vice President on the Southern Massachusetts PGA Chapter Board. Mann was recognized by his peers with the Golf Professional of the Year Award for the Southern Massachusetts PGA in 2006.

Nicko McBrain - Nicko McBrain is internationally known for his work as drummer with multi-million selling band Iron Maiden, whom he joined in December 1982. He currently lives in Florida where he is co-owner of the food & music themed restaurant Rock N Roll Ribs. Iron Maiden recently released their 15th studio album, The Final Frontier, which reached #1 in the charts in twenty-six countries and they have just completed the first leg of The Final Frontier World Tour. When not on tour or recording with Iron Maiden, Nicko is a keen golfer with a handicap of 10. In 2008, Nicko was invited by close friend Sir Nick Faldo to join the European Ryder Cup management team as one of his "motivational assistants," a role which Nicko wholeheartedly embraced.

Edward J. Morgan - Ed Morgan is the Managing Principal at Morgan Ventures, LLC. He is a real estate developer who has been involved in the financing, development and construction of over $2 billion of office, residential and industrial projects during his 20 years in the Metro Washington real estate industry as a Principal with Trammell Crow Company. Mr. Morgan chairs the Board of Trustees of Family and Child Services of Washington DC and is the Board of Advisors' President of Consortium America.

Robert J. Rotella, Ph.D. - Consistently recognized as the top sports psychologist in the world, his book Golf is not a Game of Perfect is the best-selling sport psychology book of all time and one of the three best-selling golf books in history. In addition to advising personnel for the NBA, NFL, MLB, NASCAR, and the U.S. Olympic ski and equestrian teams, Dr. Rotella is on the editorial board for Golf Digest. His golfers have achieved consistent success including British Open Champions Darren Clarke and Padraig Harrington, 2011 US Open Champion Rory McIlroy, 2008 Masters winner Trevor Immelman and 2010 US Open winner Graeme McDowell.
C. Ray Smith, CPA - Professor Ray Smith is retired Executive Director of the Darden School Foundation at the University of Virginia and the Tipton R. Snavely Professor of Business Administration. His areas of expertise include real estate development and finance as well as entrepreneurship, and he has acted as Darden's interim Dean on three occasions. Smith is the author of Cases in Management Accounting and Control Systems.